Family 5 HighTop Campervan For 5 People,
2000-2004 Model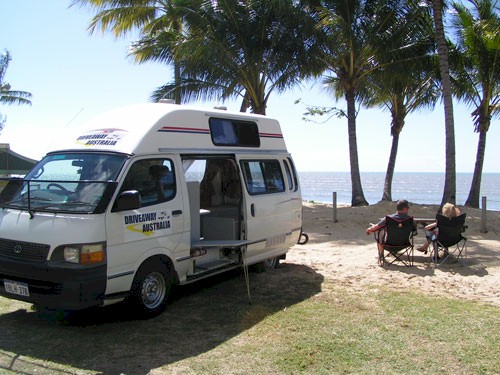 The Family Five Hightop carries 5 clients in saftey Belts. There are two Baby anchorage points for two Babies. The campervan is fully equipped and is our most sought after campervan.
Travel with your family or friends in our Family Five Campervan. Mum Dad and the Kids can all travel together at a great price.
Comes fully equipped for five clients. There is sleeping for 3 Adults in the Van. The Van also contains a 2 man tent. This gives you sleeping arrangements for 5.
The Family five consists of 2 x different configurations as seen below. We can't guarantee either configuration in peak periods. But we will do our best to suit your preference
Travel with friends and have a great social time. This is the best value Campervan on the market for families or groups of friends.
The Campervan Australia Travel Pack includes:
Towels, Sheets, Sleeping bags, Pillows, Tea towels, Linen
Can Opener, Carving Fork, Egg Lifter, Ladle, Cutting Board, Tongs, Forks, Knives, Spoons, Tea Spoons, Cereal Bowls, Cups, Glasses, Side Plates, Dinner plates, Micro Dishes, Saucepans, Frying Pan, Kettle, clothes hangers.
Maps, camping ground guides and special camp discount privileges

Specifications
2.0L and 2.4L Unleaded Petrol
4 Cylinder Engine
5 Speed Manual Transmission
Fuel Tank Capacity: Approx. 60L
Fuel Consumption: Approx. 14L Per 100km
Vehicle Exterior Dimensions:
Length: 5.0m, Height: 2.6m, Width: 1.7m
Interior Height: 1.9m
SUITABLE FOR 2 - 3 PERSONS
Features
Air conditioned cabin
Cabin seats 3 people
Cigarette lighter suitable for recharging camera batteries
AM/FM radio & cassette
Dinette that converts to double bed
Double bed: 1.9m long by 1.5m widen fixed roof
Storage area under benches
Storage area
40 litre water tank
2 burner gas stove with grill
1 burner gas stove
Dual battery system
Fire extinguisher
Fridge 55L (12v/240v)
12v/240v lighting
240v power sockets