Family 4 Berth Standard Motor Home
1999-2003 Model
The Family 4 Berth Standard Motor Home is a tried and proven winner - comfortable, easy to drive and very economical.
The Motor Home is a fully moulded 17 foot fibreglass Matilda Motorhome body based on a proven economical 2.4 unleaded five speed manual 1999-2003 model Toyota Hilux cab chassis.
The Standard differs from the Deluxe in that it doesn't have air-conditioning in the sleeping area, and doesn't have a toilet or shower.
Travel all over the country with us in this award winning Motor Home for an enjoyable holiday.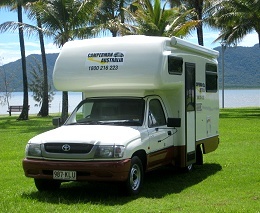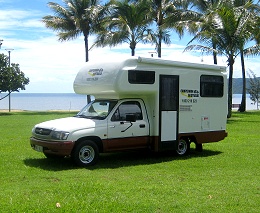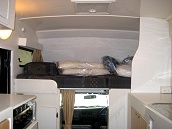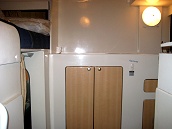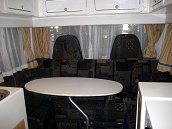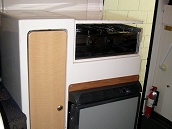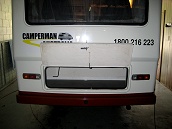 The Campervan Australia Travel Pack includes:
Towels, Sheets, Sleeping bags, Pillows, Tea towels, Linen
Can Opener, Carving Fork, Egg Lifter, Ladle, Cutting Board, Tongs, Forks, Knives, Spoons, Tea Spoons, Cereal Bowls, Cups, Glasses, Side Plates, Dinner plates, Micro Dishes, Saucepans, Frying Pan, Kettle, clothes hangers.
Maps, camping ground guides and special camp discount privileges

Specifications
Toyota Hilux Chassis
2.7L 4 Cylinder Unleaded Petrol Engine
5 Speed Manual Transmission
Fuel Tank Capacity: Approx. 69L
Fuel Consumption: Approx. 13L Per 100km
Vehicle Exterior Dimensions: Length: 5.0m, Height: 2.6m, Width: 2.0m
Interior Height: 1.9m
Anchor points for baby seats are fitted in the rear of the vehicle
Features
Air-conditioning
Cabin seats 3 people +2 forward facing seats in back
Cigarette lighter (suitable for re-charging camera batteries)
AM/FM radio & cassette
1 double bed (cab over): 1.95m long by 1.2m wide
1 double bed (dinette converts) - 1.95m long by 1.2m wide
Trunk area for storage of suitcases size of 1.95m x 0.7m x 0.45m = 1.6m3
Hanging space
Sink with pressurised water system
40L water tank
2 burner gas stove with Griller
40L waste tank or water outlet
240v power sockets
12v/240v lighting
Electronic gas hot water system
Fire extinguisher
Fridge 55L 2way (12v & 240v)
Dual battery system
Storage areas and sliding drawers for storage